Check out the Best Patio Pavers for Florida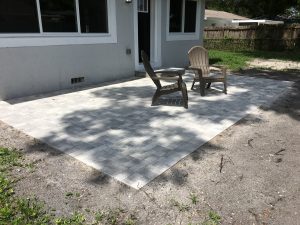 The best patio pavers for Florida are just a phone call away. Bay Brick Pavers, Inc. have become a long-time leader in the state of Florida for paver design and installation. We service communities like Tampa, Riverview, Gibsonton, Valrico, and Bloomingdale just to name a few.
When searching online for the best patio pavers for Florida you'll want to keep premium products and superior customer service in mind. Luckily Bay Brick Pavers, Inc. has both of those attributes. Our staff has many years of experience relevant to all things brick pavers. We are a family-owned and -operated company with a vested interest in your project's success. The pavers we offer come standard with 20- to -25-year product guarantees in addition to a 2-year installation warranty backed by The Outdoor Floor Source. Our pavers are crafted here in Florida and are constructed to stand up to the weather highs and lows only the Sunshine State will throw at them. Our commitment to quality comes through in our customer service as well. Bay Brick Pavers, Inc. exceeds expectations with Angie's List and continues to achieve high marks with the Better Business Bureau. This in addition to our positive customer reviews on Google provides a glimpse into what we can do for you and allows to set excellence as your expectation for a job well done.
The best patio pavers in Florida are right at your fingertips, give us a call for a complimentary quote today. In addition to patios, we can install or upgrade your driveway, pool deck, retaining wall, pathways or create a custom project with pavers. We are ready to work with you to create a complimentary design consultation. We carry the best patio pavers for Florida, and we want to make sure your project looks and feels like the patio of your dreams.